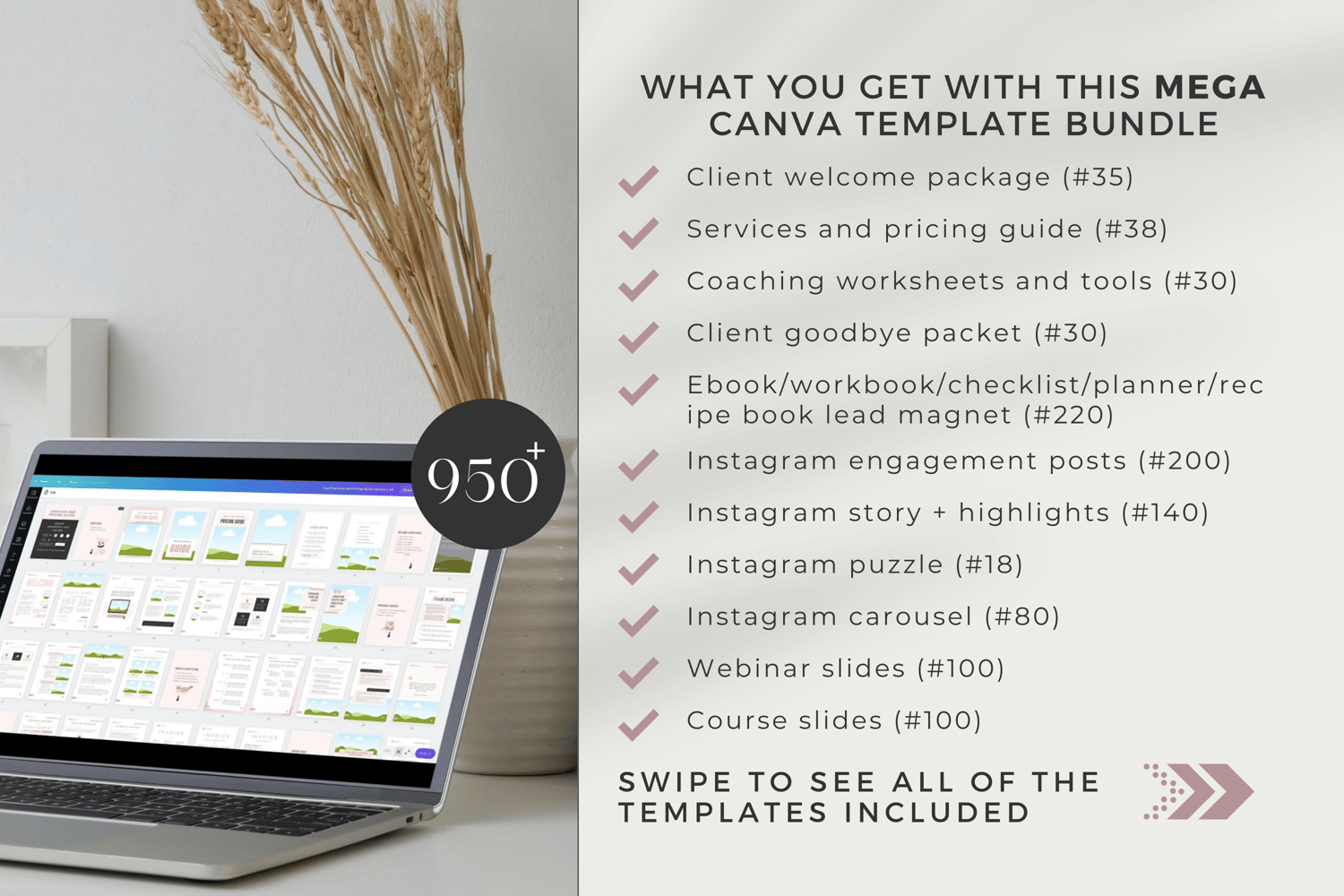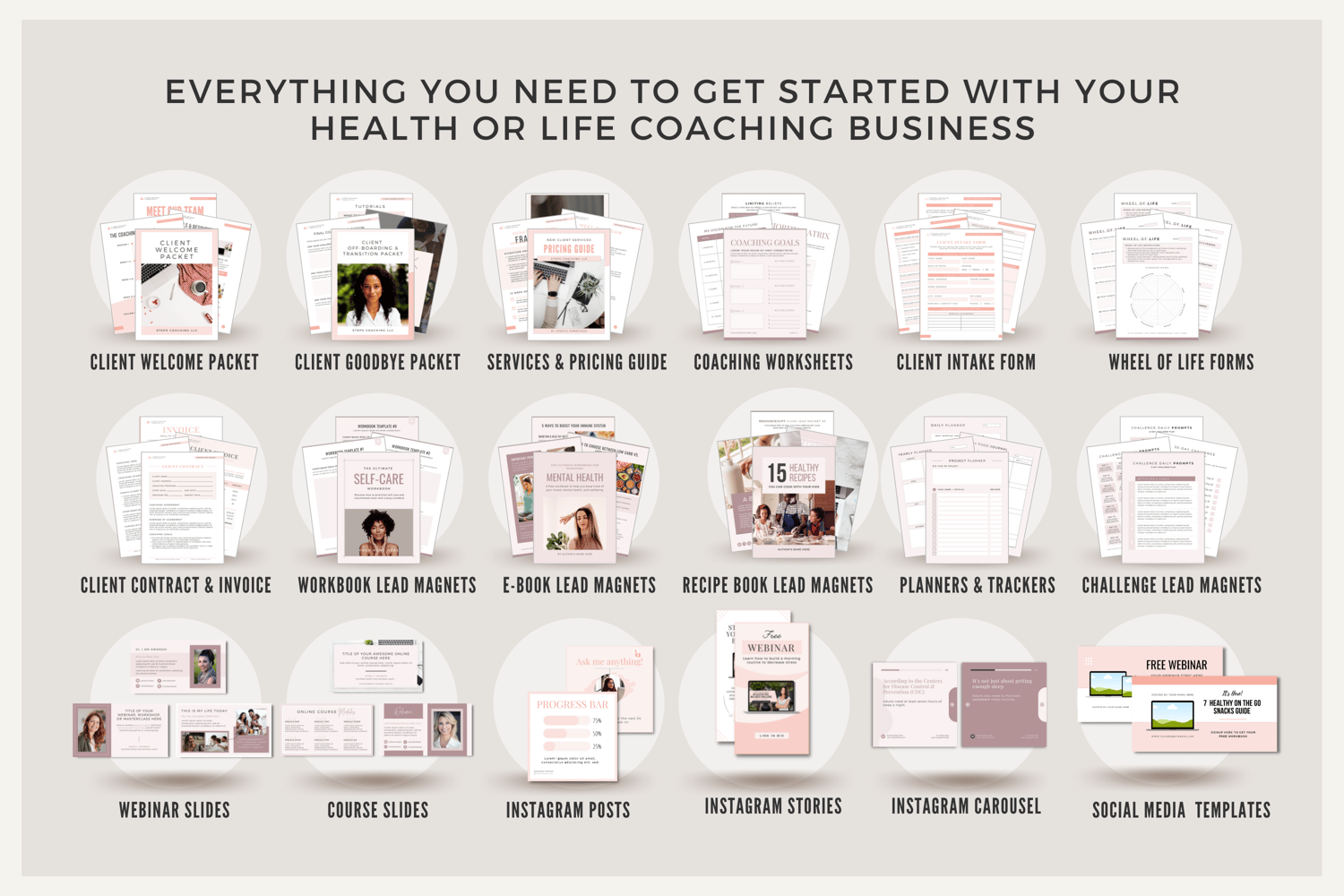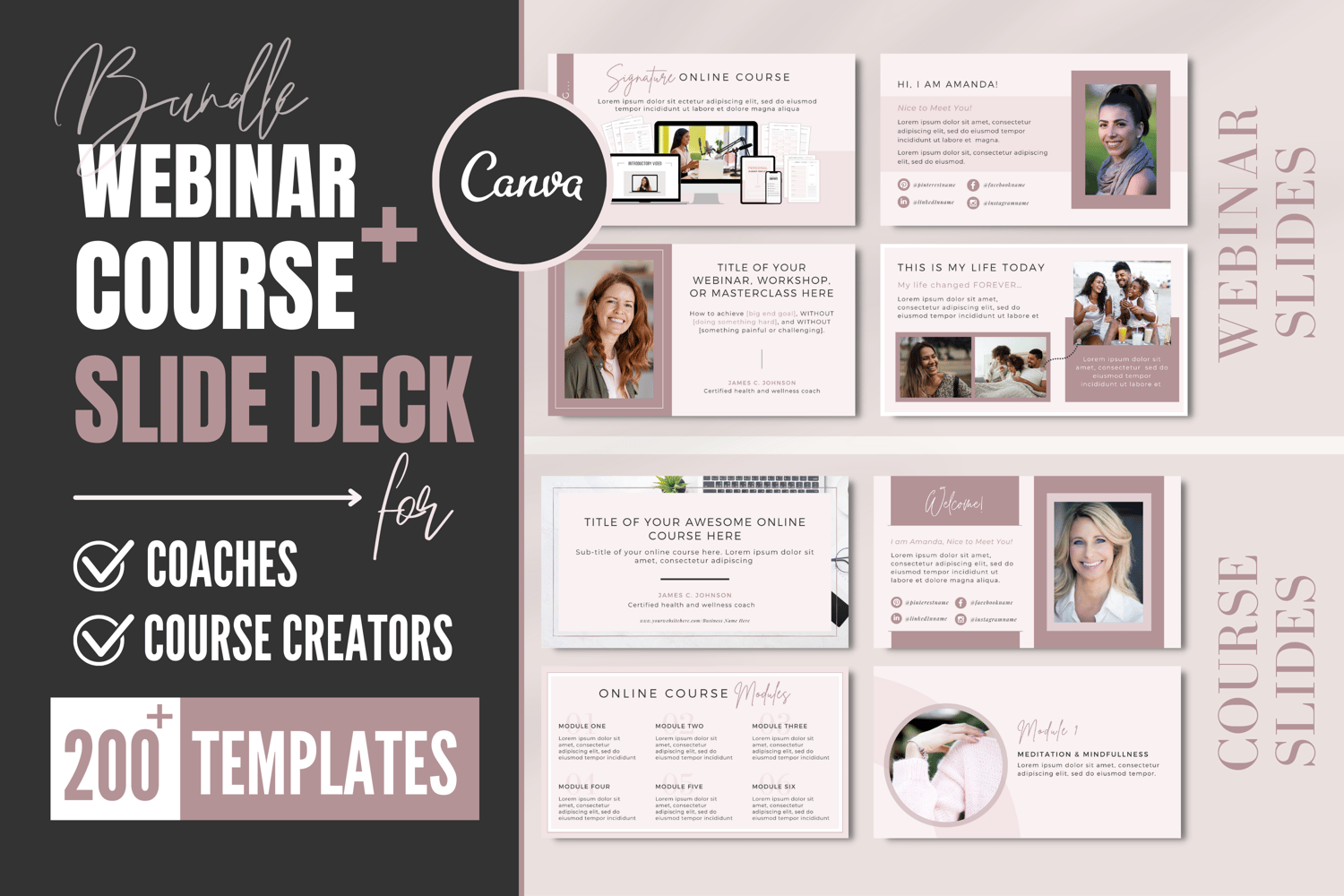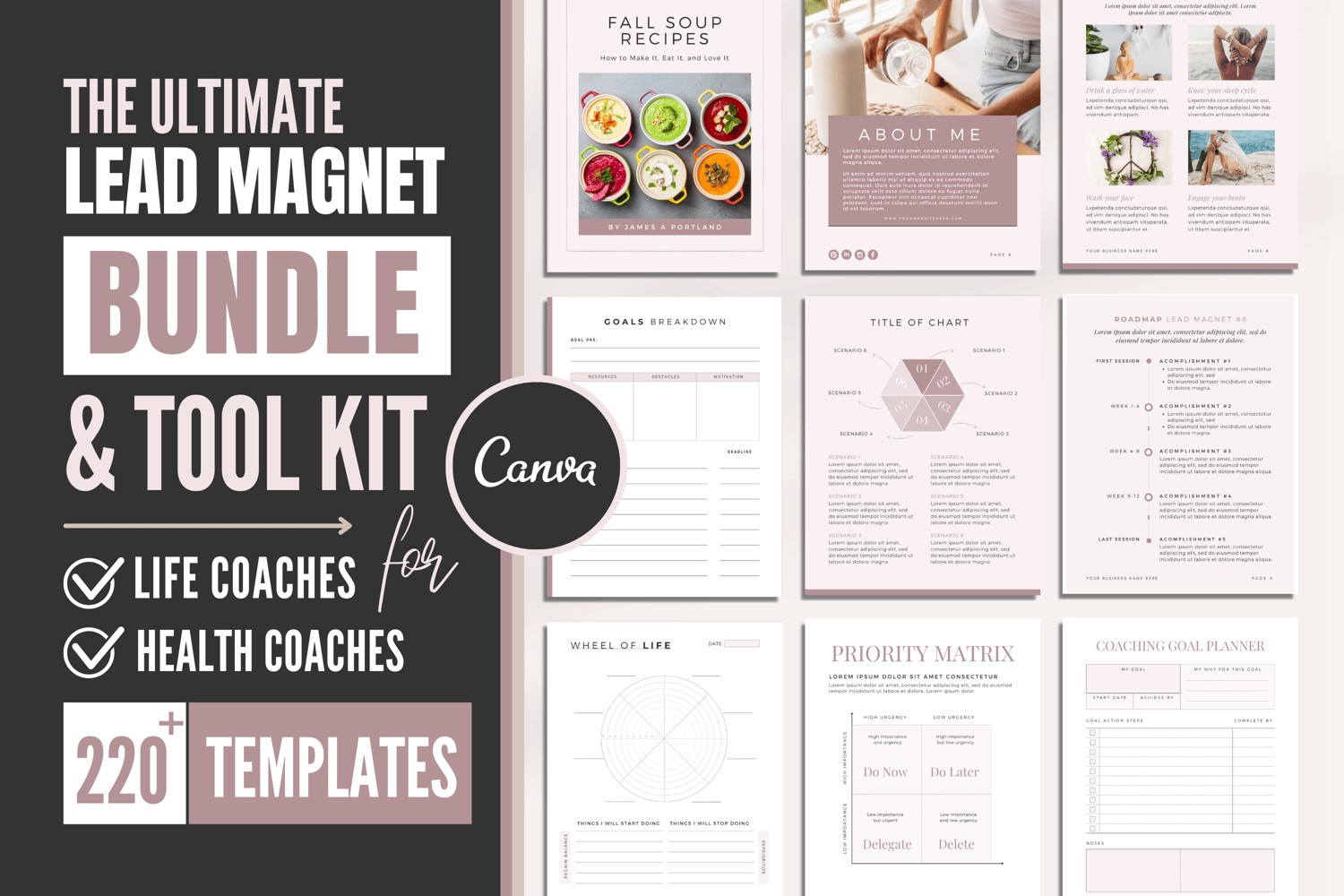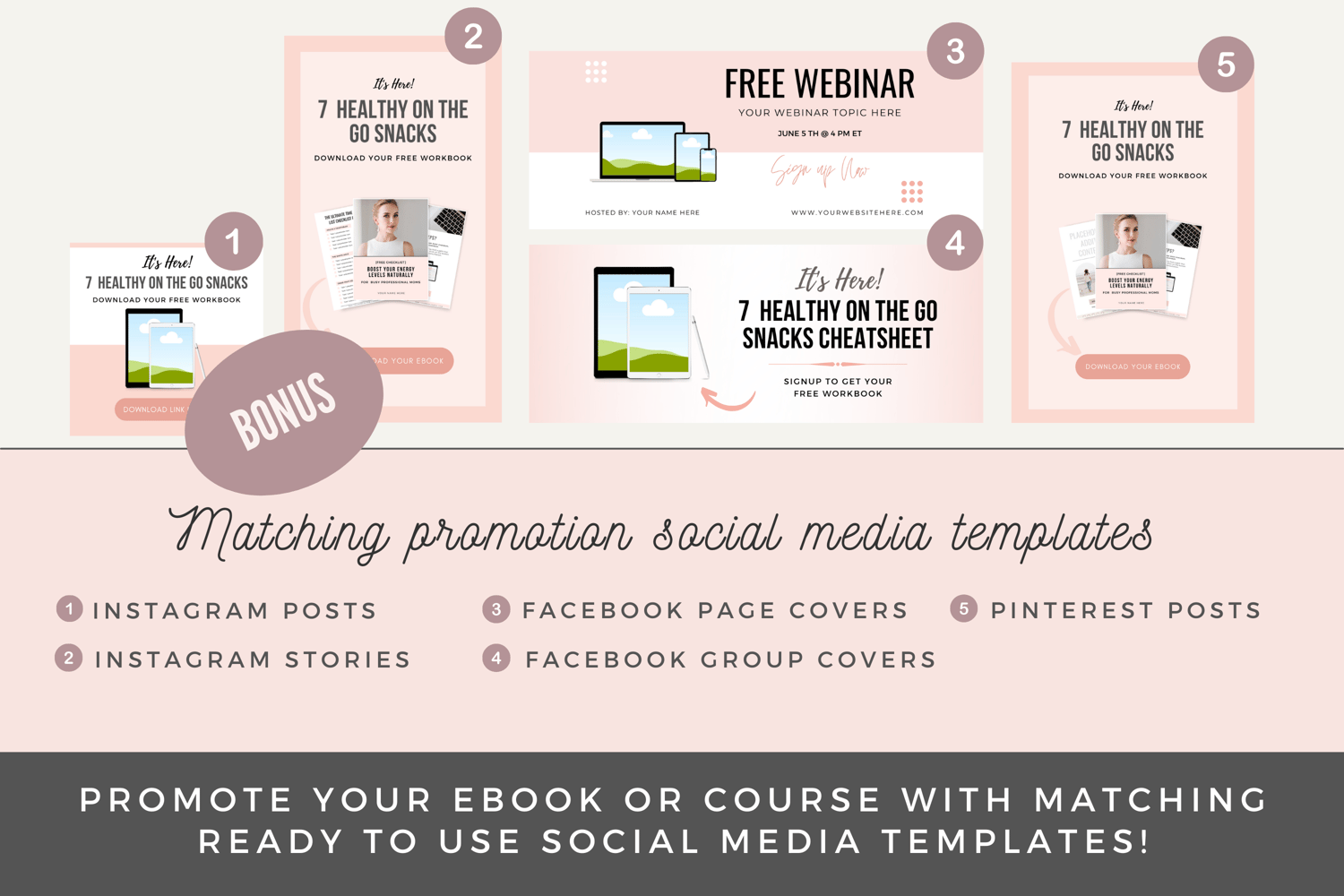 Coaching Business Template Bundle for Canva
This coaching business Canva Template Bundle in BLUSH PINK color includes everything needed to START or GROW your health and life coaching business. It covers four core coaching business areas:
CLIENT WORK: Client Experience (welcome guide, service & pricing, goodbye pack, intake forms, wheel of life, session worksheets)
EMAIL MARKETING: Lead Magnets & Digital Content (eBooks, workbooks, checklists, recipes, road maps)
CONTENT MARKETING: Instagram Engagement (IG posts, puzzles, stories, and highlight covers)
PRESENTATIONS: Webinar and Course Slides
Save over 50% when you purchase them in this mega bundle
Comes in a matching ready-to-use BLUSH PINK Color but easily edit the Canva template to match your brand colors, fonts, photos, and unique branding elements. This template is fully customizable and can be reused as many times as you'd like.
This template bundle is perfect to START or GROW your health, wellness, life, nutrition, fitness, and wellness blogging businesses.
This template kit was designed by a health coach for health, wellness, and life coaches. All you need to do is add your desired brand colors, font, logo, photos, and unique content.
WHAT YOU GET  (950+ Templates Total) - BOTH A4 + US Letter sizes included
1. Client Welcome Packet (35 Templates)
2. Services and Pricing Guide (38 Templates)
3. Client Goodbye Packet (30 Templates)
4. New client health intake forms (#4)
5. Instagram Post Engagement Pack (200 Square Templates)
6. Instagram Story Pack (90 Templates)
7. Instagram Highlight Pack (50 Templates)
8. Ebook/Workbook/Checklist BUNDLE (200 Templates)
9. Instagram Puzzle Set (18 Square Templates)
10. Coaching Contract (4 Pages)
11. Coaching Worksheets (12 Templates)
12. Wheel of Life (10 Pages)
13. Invoice template (3 pages)
14. BONUS: Social media promo pack (25 Templates total)
15. Webinar and course slides (200)