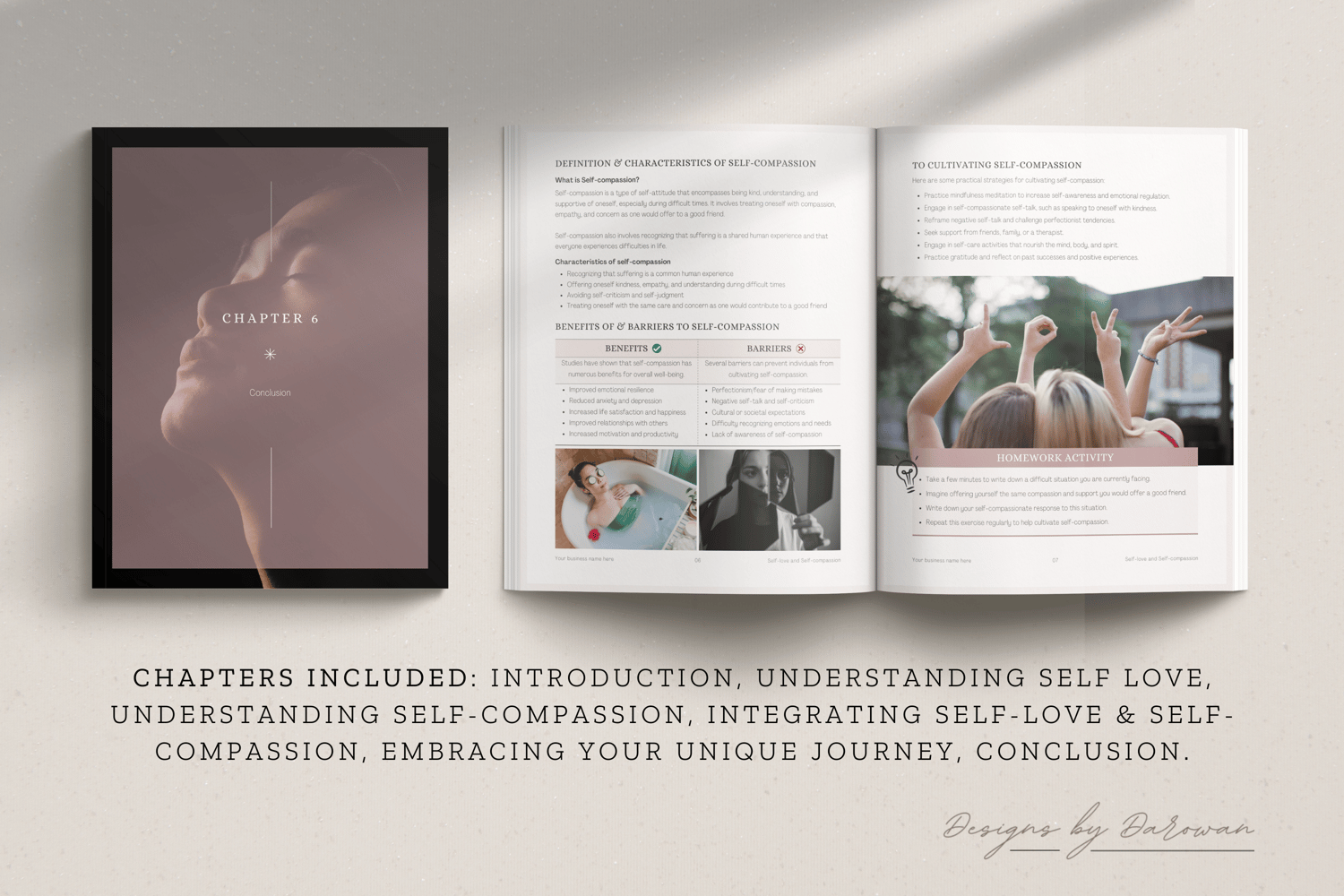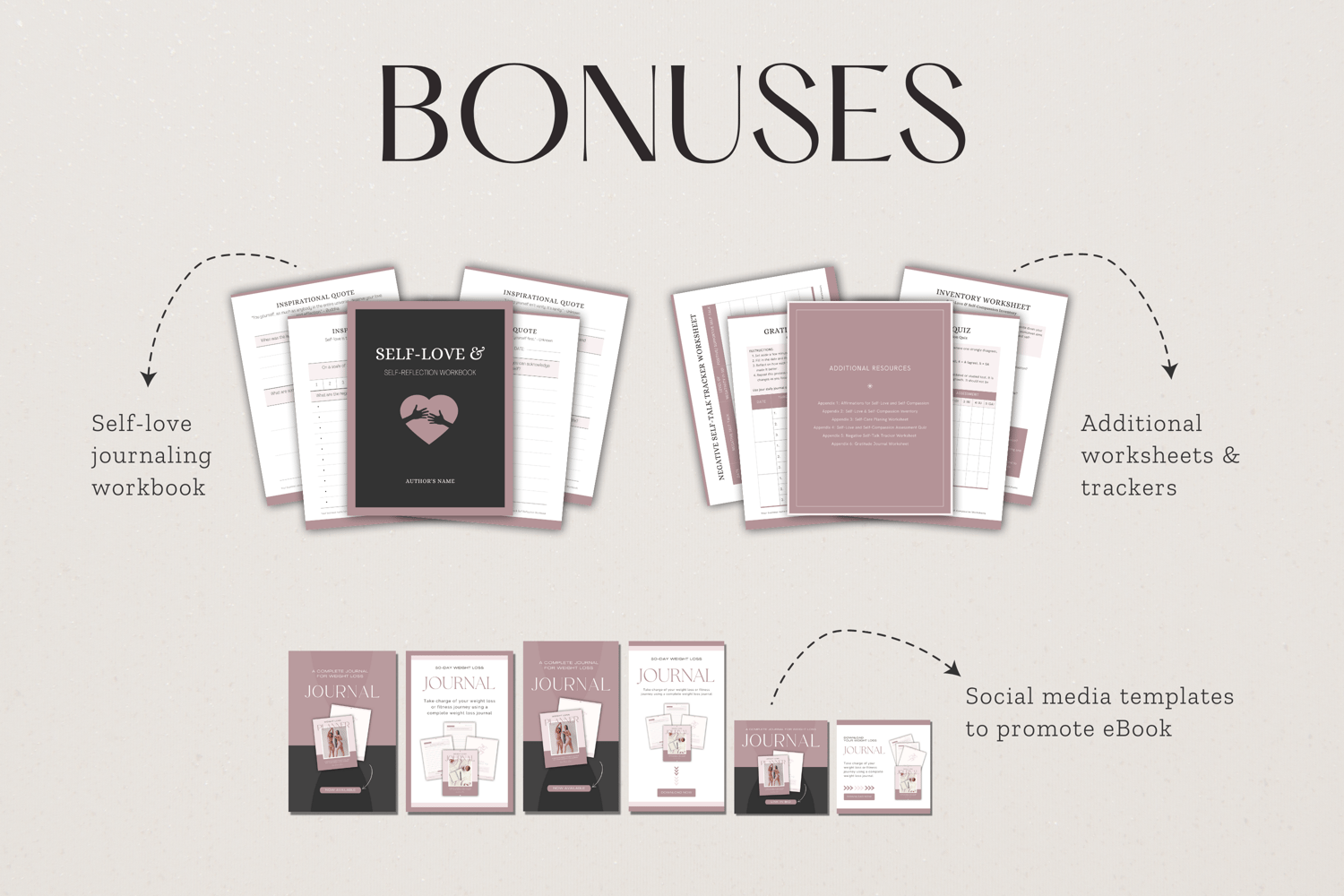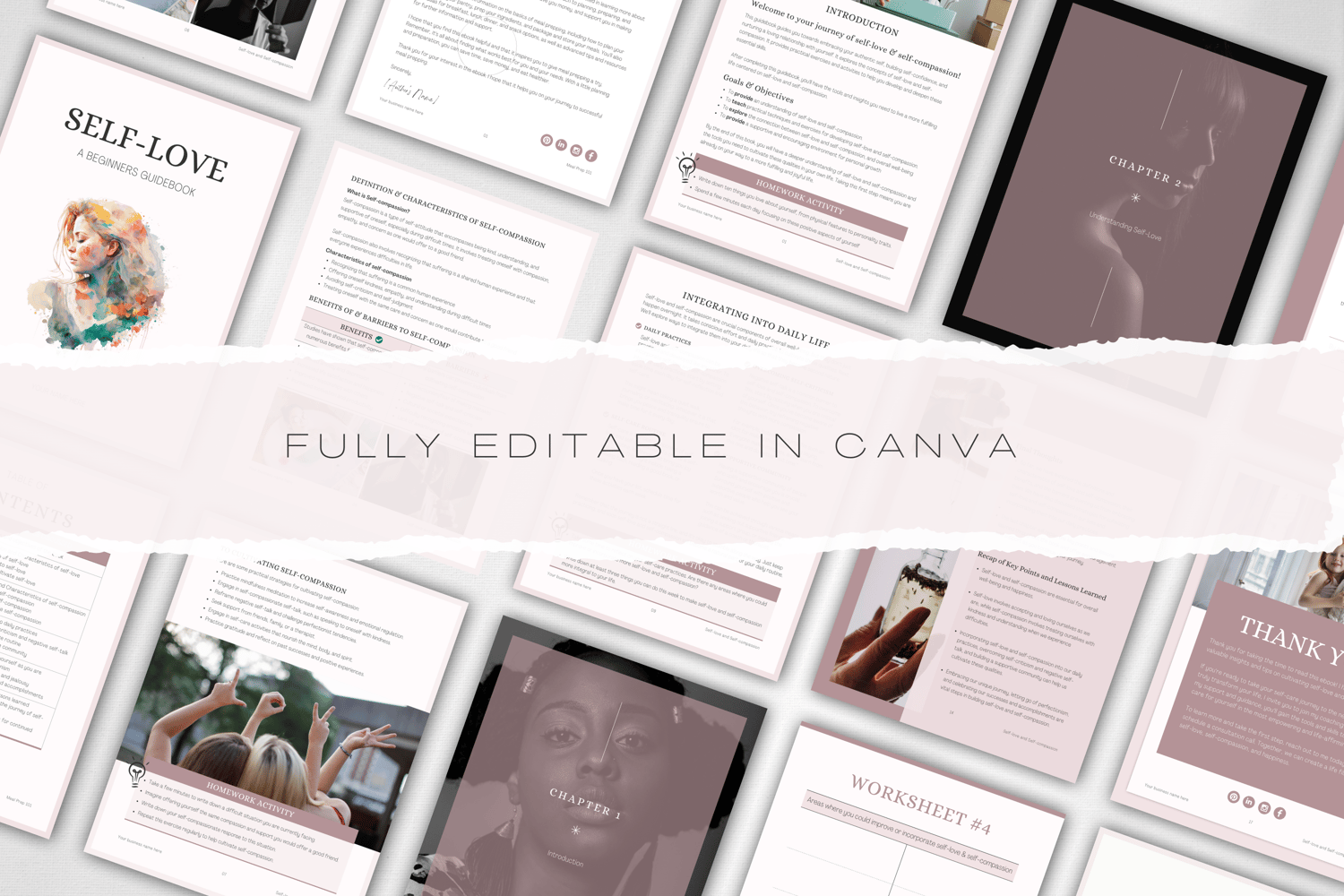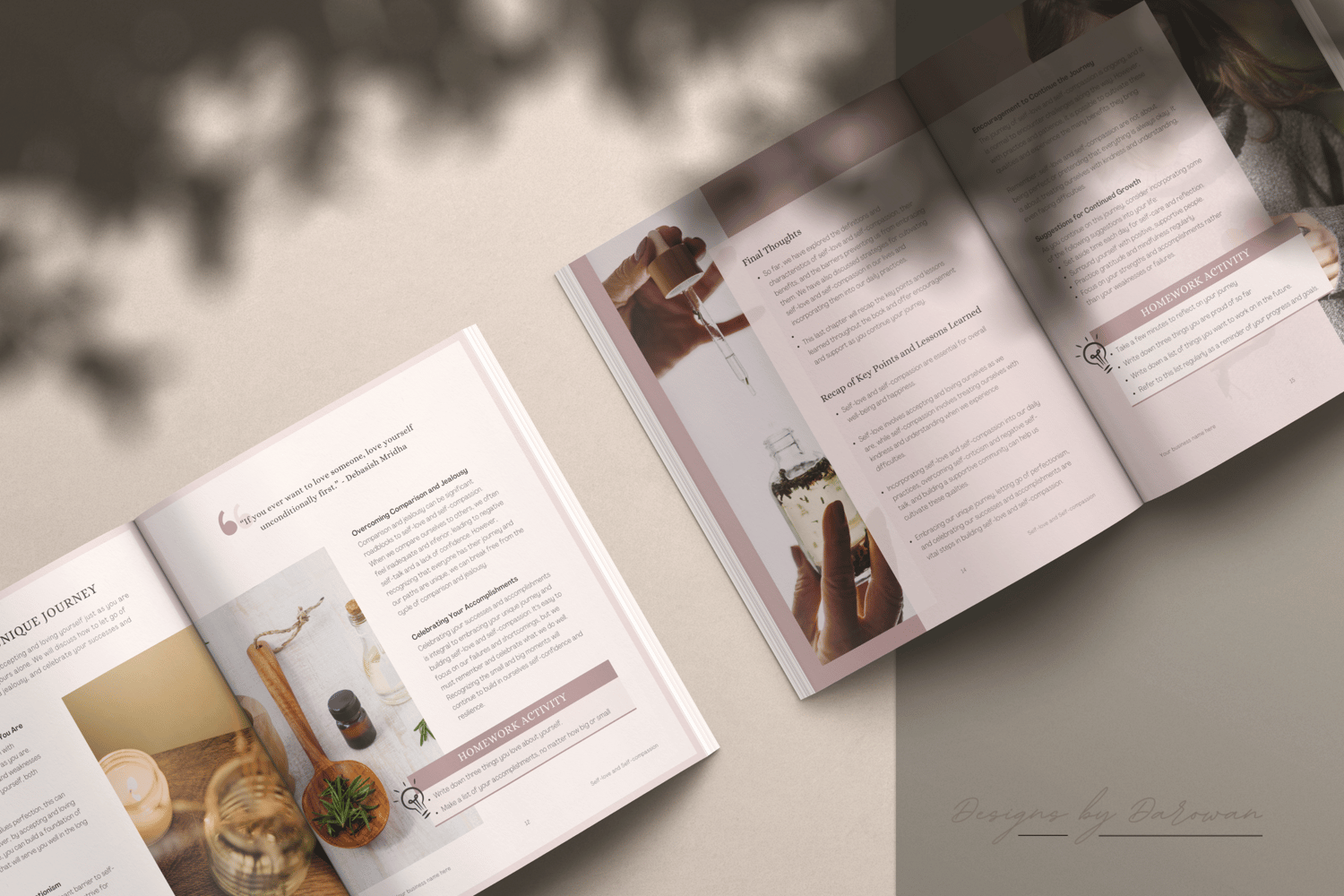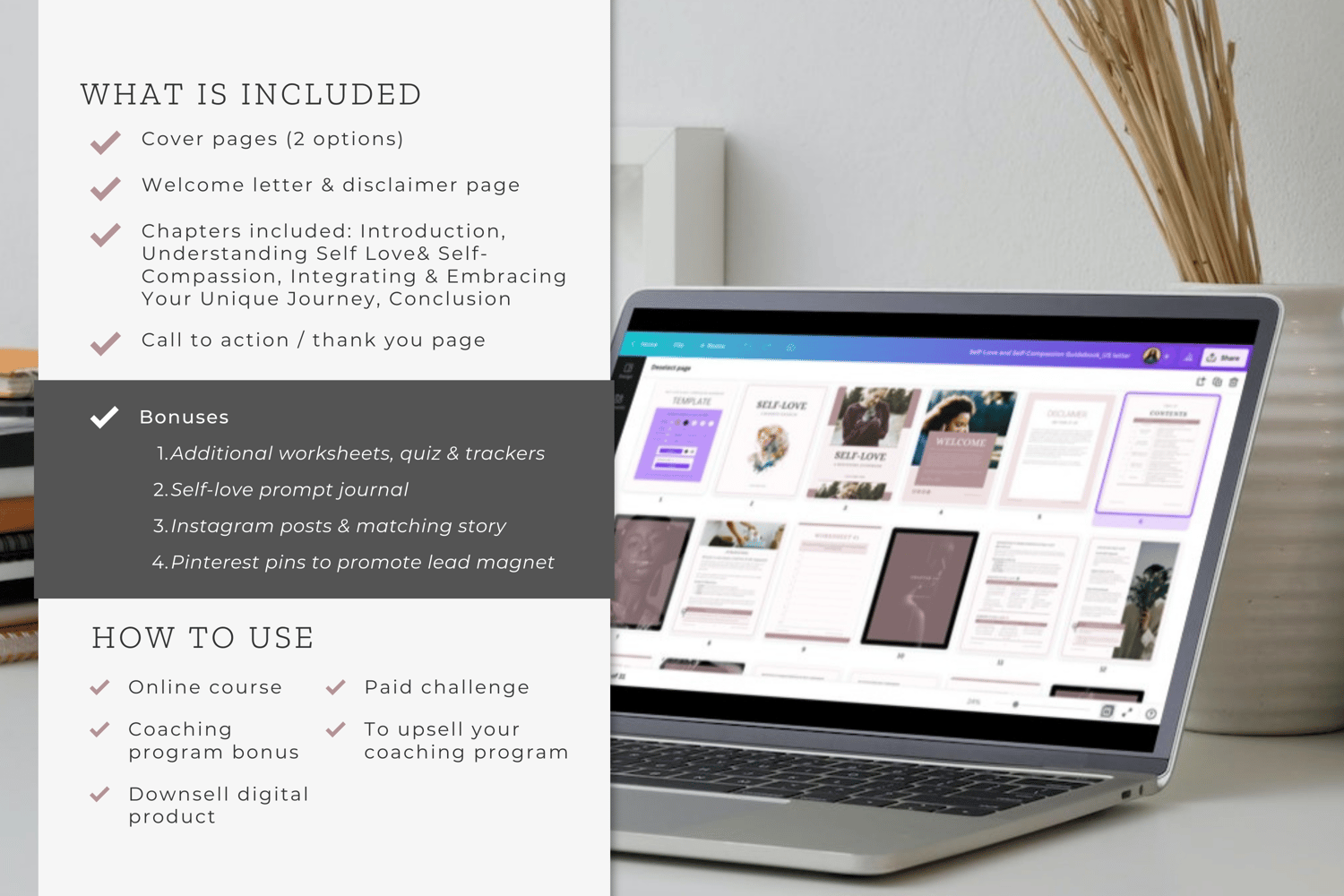 Self-Love eBook | Canva Template
$999.99
Are you a health, wellness, or life coach looking for a comprehensive resource to help your clients cultivate a more profound sense of self-love and self-compassion? Look no further than our beautifully designed ebook/workbook! This guide is the perfect tool to add to your coaching program or sell to your coaching clients.
With insights, advice, and exercises covering a wide range of topics - from defining self-love and self-compassion to overcoming negative self-talk and building a supportive community - this ebook is packed with resources to support your clients' emotional well-being and help them lead more fulfilling lives.
The appendix of self-reflection exercises, meditations, and recommended resources provides additional support for your clients to continue their growth and progress long after they've finished the ebook.
Whether you're looking to incorporate more self-love and self-compassion practices into your coaching program or offer a valuable resource to your clients, our Self-Love and Self-Compassion ebook is the perfect tool to support your clients on their journey to improved emotional well-being.
Don't spend hours struggling to create an ebook from scratch – let our template do the work for you. Add this template to your cart today and take the first step towards growing your successful health coaching business.
---
FEATURES:
✓ Pre-written text - ready to use or tweak to match your coaching program
✓ Strategic created for health coaches, nutrition coaches, fitness coaches, wellness coaches, etc.)
✓ Easy to edit (simple drag and drop)
✓ 100% Customizable in Canva with a free or pro version of Canva
✓ Use to grow your email list or make passive income (selling PDF printables)
PAGES INCLUDED:
Cover Pages (2 variations)
Welcome Letter + Table of Contents
Chapters Included + Chapter Homework Activity
Introduction
Understanding Self Love
Understanding Self-Compassion
Integrating Self-Love & Self-Compassion
Embracing Your Unique Journey
Conclusion
Call to Action & Thank You Page
---
WHAT YOU GET:
Self-Love & Compassion guidebook in US letter and A4 Sizes
PLUS THREE BONUSES
Self-love prompt journaling workbook
Additional worksheet resources
Affirmations for Self-Love and Self-Compassion
Self-Love & Self-Compassion Inventory
Self-Love and Self-Compassion Assessment Quiz
Negative Self-Talk Tracker Worksheet
Self-Care Planning Worksheet
Social media promo mockup templates